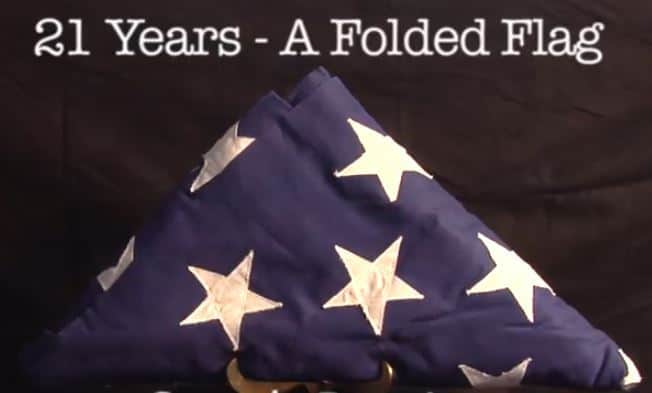 Richard Fitts Jr. invited to come watch the pre-release version of "21 Years a Folded Flag" at the Bridgewater, MA Public Library.  I was pleased to see how many people came to support Richard and Rudy's labor of love. It was standing room only by the time Richard and Rudy got up to introduce the film. They were happy and honored to see everyone.
It was clear to see that they were very proud of their work. No small amount of sacrifice and effort has gone into getting the film to this point. I feel that this a unique experience that you can't miss if you had family members who served in the Vietnam War or want to know more about our country during that time.
As I watched this film, I was drawn into the story in Laos and here in Abington, MA. Not to give away all the good parts, but there is a scene about a third of the way into the film that stopped the room cold. We couldn't believe what we were seeing and it set the tone for the remainder of the film. You will need to watch and see if you agree with me.
A thought occurred to me as I watched Richard Fitts Jr. recount his memories. Many times children are left out of the conversation when it comes to the grieving process. Watching Richard at all stages of his life until there is closure was a stark reminder that everyone pays a price for the life we enjoy in America today.
Keep checking back here and on Richard's Facebook Page for more information about this project. You don't want to miss this story about a son honoring is father's service and his family's sacrifice.
---
Links
A big thanks to Mistress Carrie from WAAF for having Richard Fitts Jr. and Rudy Childs on to talk about this project.
---
YouTube Preview
No time like the present to test the new microphone, but also I wanted to speak and write my feelings about what I saw
[embedyt] https://www.youtube.com/watch?v=IyvmDKQLSXk[/embedyt]
---