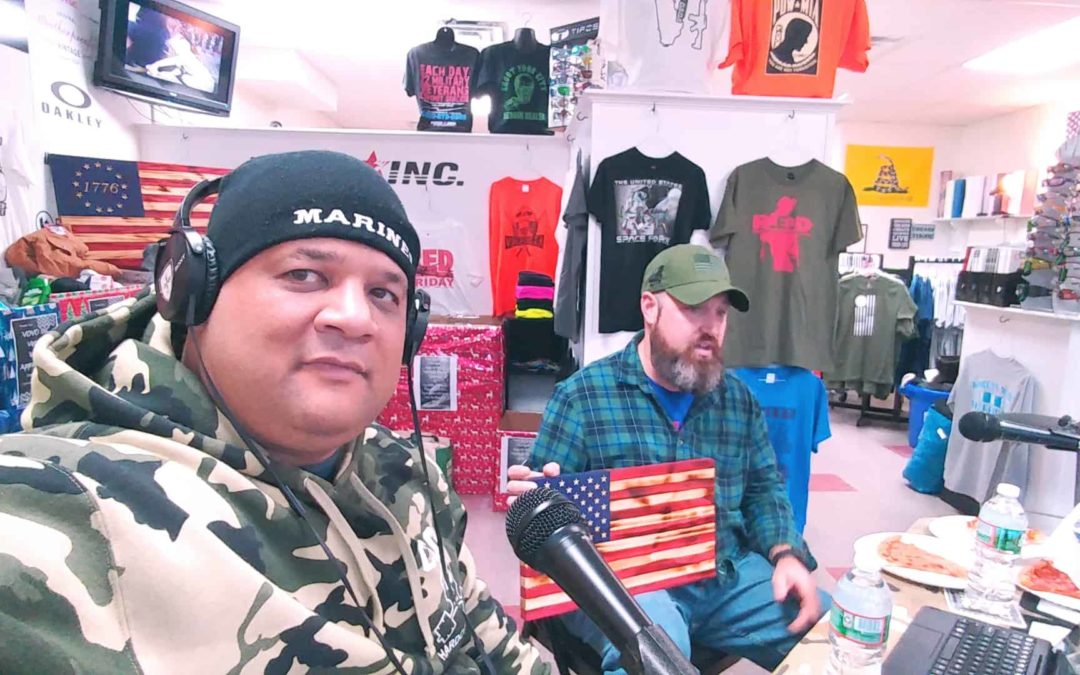 LiveCast at Veteran Owned Veteran Operated – 12/09/18
Owned. What does that mean? Business owners know about the word owned. It has been a good thing to talk with so many Veterans who are business owners. Many times that ownership is dealing with problems that customers never know about, all to take care of family and provide for the future.
I met Jonathan Gosselin recently at a 22Kill Event in Abington, MA. We had done business in early 2018, but never met face to face. We started talking about the OMR brand and my goals for 2019 when he hit me with an idea. I could come to his store and livecast from VOVO INC (https://vovoprints.com/). So we did a livecast as couple of weeks ago and it went great. Jonathan aske me to come back on Sunday December 9th to talk with other Veterans and people who support us.
Setting up is a cinch now and it gave me a chance to talk with Jonathan about what he is doing. He has given me some great ideas for promoting Oscar Mike Radio, and we got some laughs from the last livecast I did.
The question was asked about my feelings. Was I nervous? Did I think this was going to be difficult? I was a little bit nervous and then once the cast went live I was ok. I didn't really think about anything other than listening to guests and talking about why we were all here on Sunday.
Jonathan didn't really talk a lot on this livecast, and there was a reason for that. He wanted people to get one on one with me to talk about what had worked for them during hard times and how they used what they learned to meet their goals. In that regard, this livecast was a great success. You can watch the video below and let me know what you think. Go to Facebook, Like and Follow VOVO INC and Oscar Mike Radio.
Veterans, you are not alone. We need to own our success and keep building on what we have no matter the obstacle.
____________________________________________________________________________________
YouTube Video
[embedyt] https://www.youtube.com/watch?v=EEmFohE7Q8k[/embedyt]
_____________________________________________________________________________________