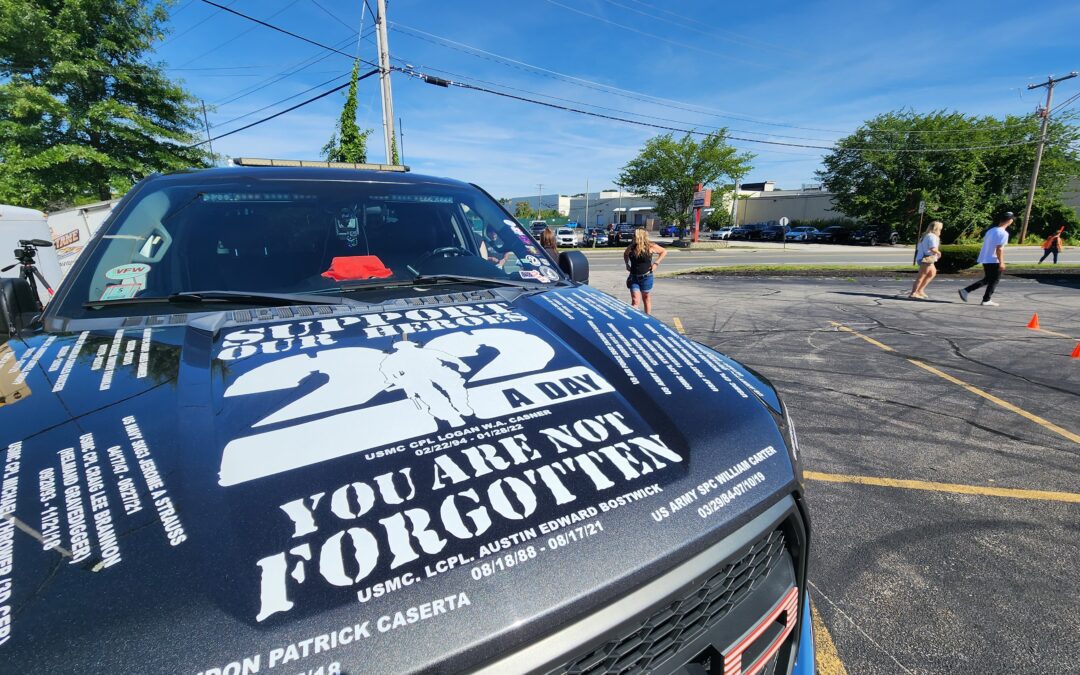 I was with Abington VSO Adam Gunn at Black Hat Brew Works a couple of months ago when first saw the Till Valhalla Truck. The truck made an immediate impression on me. The truck had names on it and the license plate "PTSD 22", meant that this was not a typical custom truck.
Meeting Bill Sheridan and listening to his story I learned the Till Valhalla Truck keeps Bill in his fight with PTSD.
Bill asked me to come to Manchester Harley Davidson (https://manchesterharley.com/) on Saturday, August 12th for the Warrior Brotherhood MC (https://www.wbmcnh.com/) Veterans Suicide Awareness Ride. This ride is in honor of U.S. Army SPC William R. Carter this year's beneficiary is the Liberty House (https://libertyhousenh.org/) in Manchester.
Meeting William's mother and watching her talk with Bill about how PTSD affects everyone was something I needed to see. I know there are all kinds of programs, studies, and data about PTSD. Maybe it is a truck and a Ford truck (because there are so many) that allow people to have a moment of introspection and healing. Each name represents a life lost to PTSD. Bill could put over 100 more on his truck right now. We all are working for the day when there are no more names. Thank you Bill for letting me be a part of this experience.
Thanks again to the Warrior Brotherhood MC, Manchester Harley Davidson, Bone Frog Warrior, and everyone else who supported this ride.
To learn more about the Till Valhalla Truck and how you can support Bill, go to his Facebook blog https://www.facebook.com/profile.php?id=100064151917935
---
Learn more about the Till Valhalla Truck
---