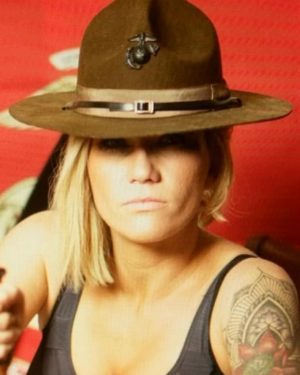 Episode 88 – Marine Comedian Sgt Megan
About 6 weeks ago, I saw a video about a military dependent who was a stripper. She had gotten divorced from her Marine husband and had gone back home. The video was made by Megan Bruce. At first I thought she was a civilian trying something new, but I was wrong. Megan Bruce served in the Marine Corps, and wants to use comedy to tell stories about the military experience from a female point of view. I was curious because I haven't seen anyone in the military, especially a female, do comedy like this. The video is laugh out loud funny, but also seemed empathetic to men who go through the divorce process, and lose access to their children.
I reached out to Megan and we started talking. Come to find out she has a long term plan for what she is trying to do.  These videos are funny, but  it is the way she gets into character that leads me to believe that the Sgt Megan brand can go somewhere.
I think both videos show her range and educate without being preachy/angry. The best part of seeing her videos was reading the comments. Most people didn't pick up on the fact that the character was not real. Even when Megan said, hey I was just in character, people had difficulty accepting that this was an act.
We all could be watching something big happening. There is space in the comedy world for someone like Sgt Bruce. She is going to be on again soon and we will talk about other things she is working on for her comedy routine. Check out the videos below and be sure to hit the links to stay in the know. OMR sends.
---
VIDEOS
This is the first – Confessions of a Strippa Dependa
[embedyt] https://www.youtube.com/watch?v=8nOynz3dcqQ[/embedyt]
This is the is the second video – The Military Women Double Standard and the Solution to it All
[embedyt] https://www.youtube.com/watch?v=W-4kGKjKffk[/embedyt]
---
Website and Social Media Links
Stay in the know by following Sgt. Megan on these links
Podcast: Play in new window | Download