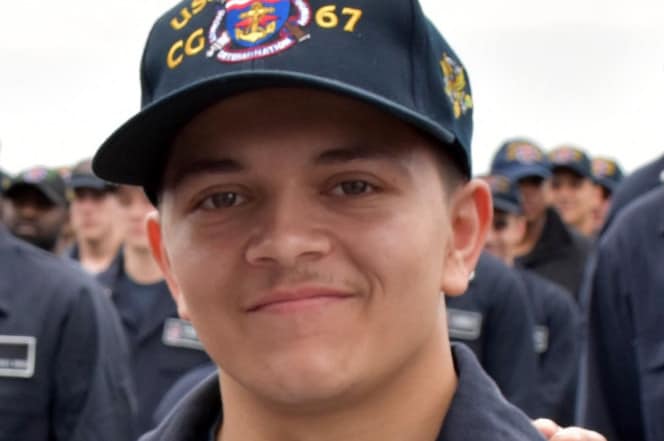 Keeping a Promise
So as I said in my podcast, I am wearing the Georgia Bulldogs swag. Jill St. Jacques and Tim Montjoy have been guests and are listeners of the podcast. On Episode 60 – Operation Teammate, Founder Tim Montjoy USAF Ret. predicted that Georgia would play for the National Championship back in September, I made the promise that I would wear the gear if his prediction came true. So here it is, I hope your boys pull it off Tim.
You can find out more about Operation Teammate by going to their website Operation Teammate
---
The Word
I read about Peter Mimms last June and thought wow, someone took the prize from the Marine Corps as to who can play hide and seek the best. My thoughts went back to the Marine who survived two days in the ocean after falling or jumping overboard. (Chicago Tribune Article about LCpl Mayo falling overboard).
Seamen Mimms hid on the Missile Cruiser USS Shiloh for a week. The USS Shiloh is about 570 long and 55 feet wide at her widest point. With a crew of about 400, it would seem that finding something, much less a person wouldn't be that difficult.
Not only did Peter Mimms hide undetected, he did it for a whole week and would have stayed hidden longer if one of fellow crew members did catch him. So I am reading all of this and thinking that this guy is a grade A sh**bird, nothing to see here.
That was until I read the  Navy Times Story on Peter Mimms that detailed his financial and marriage problems. These were real problems and it seems he went through the chain of command for help. When he did not get the help he needed, he decided to hide out.
I asked myself who is to blame here? Certainly Peter Mimms could have handled this better. However, he went through the chain of command and didn't get what he needed. What could his captain done to help him in the middle of the Pacific Ocean? Let me know what you think. travis@oscarmikeradio.com
---
Upcoming Event
I was on the Irreverent Warriors Boston Facebook Page when I saw this event.  I talked to one of the coordinators and will try to have him on next week to talk more about how breathing can help Veterans deal with PTSD, Anxiety, and other problems. This is free to Veterans and I am looking forward to learning more.
Podcast: Play in new window | Download