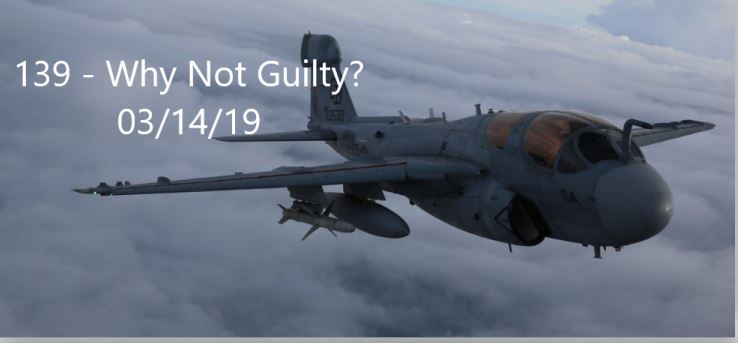 As I said in the podcast, I was watching a Sopranos episode when this got me thinking. Tony, Paulie, and Christopher were in Italy, and when an Italian found out Paulie was an American, he said something to the effect, "Your plane cut our ski lift." and walked away.
That got me thinking, and then looking around. I remembered this happening while I was in the Marine Corps. A USMC EA-6B Prowler cut a ski lift line in Italy and killed all 20 people on the lift. It was significant because the pilots were found not guilty of involuntary manslaughter and negligent homicide. https://www.history.com/this-day-in-history/marine-jet-severs-ski-lift-cable-in-italy
Not guilty? No guilt at all for killing 20 people? The pilot,
Captain Richard J. Ashby was flying about 300 feet off the ground. 300 feet was well below the mandated 2000 feet for operating in that area. Also, the pilot, Captain Ashby and navigator, Captain Schweitzer destroyed the video flight recorder.
While they were acquitted of the charges for manslaughter and homicide, they were found guilty of obstruction of justice. The end result being they were kicked out of the Marine Corps.
Captain Ashby argued that equipment failures on the aircraft led to the ski lift being compromised. Suffice to say, the Italian government did not see it the same way. I would say that an experienced pilot knows the difference between 300 and 2000 feet altitude wise.
The fact that the flight video recorder was destroyed leads me to believe that there was some measure of guilt. I don't know, and I can't really understand how these pilots were found to be not guilty. I am sure the families involved still have a difficult time answering that question. OMR sends
Upcoming Events in Massachusetts
South Shore Veterans Assistance
Meat Raffle – March 30th 7 PM Whitman, MA VFW – Go to https://www.facebook.com/SouthShoreVeteransAssistance/
Wild Hearts Horses for Heroes
Benefit Dinner & Silent Auction – East Bridgewater Commercial Club 6 – 10 PM. http://www.wildheartstherapeutic.org/
Project New Hope
Veterans Wellness Retreat – May 17 – 19 – Grotonwood Camp and Conference Center – https://www.projectnewhopema.org/
Podcast: Play in new window | Download