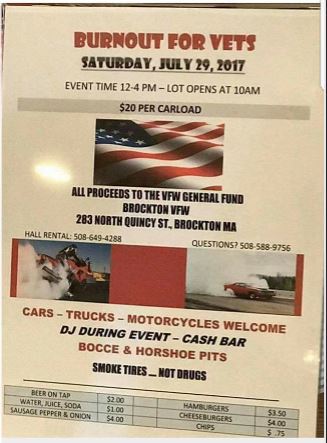 I got a message on Facebook from a listener about an event Saturday July 29th at 10 AM. He wanted to talk with me about the 4th annual Burnouts 4 Vets that raises money for the Brockton VFW Post 1046.
Tiny asked me to come down to the VFW and talk to them about Burnouts 4 Veterans.
This was started 4 years ago by Albie Robbins and his friend Victor Cimino as a way to legally have fun doing burnouts in parking lots while raising money for a good cause.
Entering into the fourth year, this rare treat is economical, family friendly, local and with free parking all in one place.
I talked with the Post Commander, Jim Doherty who outlined what the Brockton VFW did to support military and veterans in the greater Brockton area. Tiny told me that he felt like family being a part of the VFW and loved helping Veterans and people in Brockton. As for Albie and Victor, these guys could do their own TV show. It was a laugh a minute. I had a great time with these guys and they asked me to come back.
I enjoyed getting to talk to these guys and I hope to see you all there this Saturday.
The event will be held at the Brockton VFW – 283 N Quincy St, Brockton, MA 02302
Start time 10:00 AM – Until the last tire is melted rubber. Find out more at the  – Burnouts4Veterans Facebook Page
Burnouts 4 Veterans and Brockton VFW Post 1046 would like to thank the following sponsors for their support
Modern Auto Body – Brockton, MA
Brockton Tire – Brockton, MA
Lynch's Towing – Brockton, MA
Spiegal Scrap Metal – Brockton, MA
Brockton Auto Parts – Brockton, MA
Dave Mobile Home MFG – Holbrook, MA
Spee Dee Oil Change – Abington, MA
FTF Cycles – Randolph, MA
Absolute Auto Sales – Brockton, MA
Podcast: Play in new window | Download