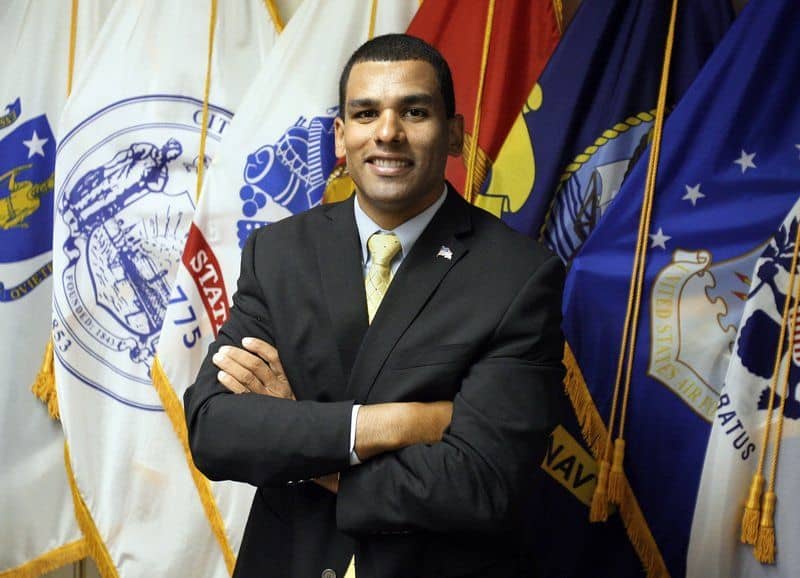 ---
I have lived in Massachusetts for a while. Well, a long while at this point. I am still surprised when fellow Veterans tell me they don't know their Veterans Service Officer. Massachusetts has taken many steps to ensure Veterans have access to services and benefits. One of the ways this is accomplished is via the Veterans Service Officer. The person in charge of VSOs as they are called is the Secretary of Veterans Services. It was an honor to speak with the current Secretary of Veterans Services for the Commonwealth of Massachusetts, Francisco Urena.
This was a great oppurtunity to get information that Veterans can use from the person who is in charge of taking care of us. Secretary Urena went through what VSOs and his office do to address Veteran's needs in Massachusetts.
We also talked about a recent event where the Town of Weymouth worked with their VSO and Department of Veterans Services. The event was Scott Lobaido's sculpture to raise awareness about PTS and Veteran's Suicide. This was an example of a lot of people coming together to present this impactful sculpture to across the entire state of Massachusetts.
I wanted to get Secretary Urena's perspective on Veteran's Non-Profits. There is always a concern of how effective an organization can be when there are so many who are working in the same space. Secretary Urena said that resources are not the problem in Massachusetts. The issue is connecting Veterans to those organizations and resources that can provide assistance.
Whether it is an organization or individual looking to help Veterans, the Department of Veterans Services exists to ensure all Veterans in Massachusetts have a "hand up" when needed. Every Veteran in Massachusetts has an advocate where they reside to assist. We are not alone.
I want to say thank you to Secretary Urena and his staff for working to make this interview happen. I learned a lot and gained a better appreciation for how Veterans are served in Massachusetts. Semper Fidelis
---
---
Thanks to my sponsor Joyce Asack for supporting Veterans!
Email: joyce@asackrealestate.com
Phone: 508-942-7146
Website: asackrealestate.com
Facebook: https://www.facebook.com/AsackRealEstate/
Podcast: Play in new window | Download