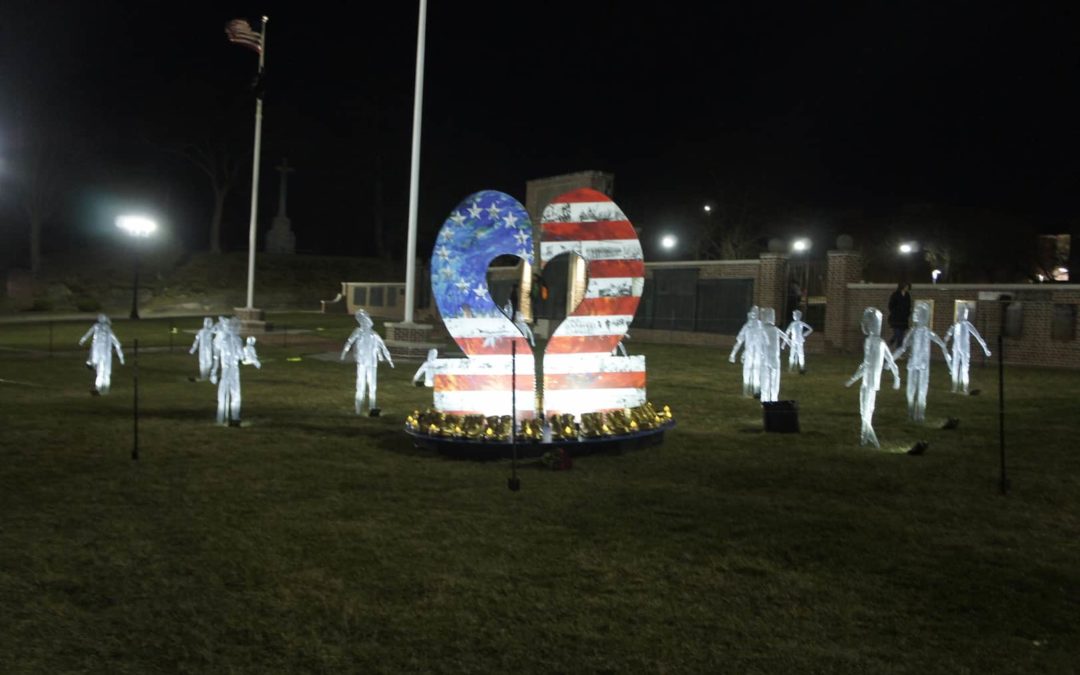 I saw this article – https://abington.wickedlocal.com/news/20190412/traveling-art-installation-on-veteran-suicide-to-visit-weymouth/
The article was about Scott Lobaido. He is an artist, and his mission to raise awareness and advocacy for PTSD. I liked that an artist wanted to do this. Since it was in Weymouth, MA there was no reason not to go.
I went the first night and talked briefly with Scott and Secretary of Veterans Services for the Commonwealth of Massachusetts, Francisco Urena. Scott asked me to come back the following night to talk with him more.
Talk with people and Scott
The next night was windy in a way that made recording any audio a real test. There was a guy on a Harley – Davidson Sportster named Anthony. He told me that the VA could have done more for his brother.
I never realized what it does to mother to have her child serve. Conversations like I had with Jacquelyn make me stop and consider the cost of PTSD. It is not the soldier who bears this alone. Family can be asked to pay a heavy price as well.
Scott was gracious to give me some time, and we talked about his work. His art is about conveying a feeling of pride in being an American and loving our great nation. You need to go to his website (http://scottlobaido.com/gallery/) and check out his work. Which piece is your favorite?
The last person I spoke with was Conor Sullivan. Conor is an Air Force Veteran. 19 months ago he got a heart transplant. Two weeks ago, he ran the Boston Marathon. Aim High indeed, well done Brother. Conor is a member of the Veterans Brotherhood Motorcycle Club. It was good seeing these guys at the exhibit.
Scott proves that anyone can do any thing to make change where they are. I won't look at artists the same way ever again. Thanks Scott.
Podcast: Play in new window | Download