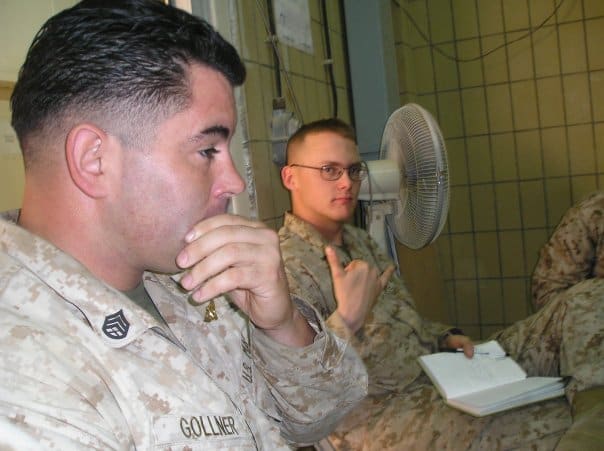 Episode 115 – In Memory of John Gollner, Veteran X
Like I said this is a different kind of podcast. On September 29th, I got word that a Marine I served with had passed. I couldn't believe it. I was riding motorcycle when I got a Facebook Message from one of the Corporals I served under.
In the message was  a picture of John Gollner. I served with and under him Charlie Battery, Second Platoon. I sat beside my motorcycle for a while and could not do anything. Disbelief set in and I started making phone calls and reaching to others to get confirmation on a situation I could not fathom.
As I talked with others about his passing I wanted to do something to make sure he was not forgotten. I received permission from his father to do this podcast. John and I tried several times to sync up to have him on Oscar Mike Radio. He had started Veteran X and I wanted to find out more, but we could never make it happen. Schedules and time zones make for their own challenges…… I wish I could say otherwise.
I hope this will provide John's family, friends and fellow Marines some sort of comfort. The most valuable thing we have in life is each other. Semper Fidelis John, I can hear you singing our anthem now.
---
HAWK Missile System Video
[embedyt] https://www.youtube.com/watch?v=Wa01gESQ6WM[/embedyt]
---
Veteran X
Please go to the Veteran X Facebook Page and check out what John was doing. (Veteran X Facebook Page) . My view on Veteran X is some of us are Veterans. We have either given all or are prepared to do so. Hence, Some Gave All. X is anyone us at anytime can be a force for those in need. John ran his talk and it is a regret I will carry with me for a long time that we could not sync up to have him talk more about what he was doing.
Podcast: Play in new window | Download